Passport Travel
Redeem loyalty points for travel, book flights, hotels, travel packages and rental cars.​
Seamless integration with Extensive access
Passport Travel easily integrates into your existing system and requires limited IT resources for setup and deployment. Program members can pay a portion of the cost with their loyalty points and pay for the remainder on a credit card.​
1 million+ Hotel Properties
Exclusive closed user group hotel rates, deeply discounted.
Only Online Travel Agency with ALL major rental car brands.
Connectivity to 263 major airlines.
The Engage Travel platform allows your program members to book flights, hotels and car rentals with their loyalty points.
Engage travel is connected to 263 major airlines worldwide with access to book flights online and by phone.
Access any airline with real-time and competitive market pricing, and no black-out periods or seat restrictions.
Customers have the freedom to book airline tickets with the same flexibility as booking with the airline with the same fare types and ability to; search with +/- 3 day flex on departure dates, select and pay for seats using points, add baggage to a booking using points as payment, and many other features.
All with points and Passport Travel.
With over 1 million+ hotel properties and access to over 200 brands program members can use points to book hotel stays anywhere in the world.
With flexible stays and access to the best prices, Engage People's Passport Travel solution is a convenient way to utilize points for nights away.
No flight, no problem, use your points to bundle hotel and car rentals using loyalty points.
Enjoy the convenience and flexibility of using points for stays with Passport Travel.
Passport Travel from Engage People offers the only OTA that works with all major rental car brands. With over 21,000 rental car locations worldwide, and prepaid inventory from Hertz, Sixt and soon to come from Enterprise, National and Alamo no other network provides the same depth of rental car options.
With the added ability to choose from all major car types including Luxury Cars, Vans, SUVs and Jeeps, and pay using loyalty points, no other travel provider can offer the same flexibility for car rentals.
Using loyalty points for car rentals has never been easier with Passport Travel.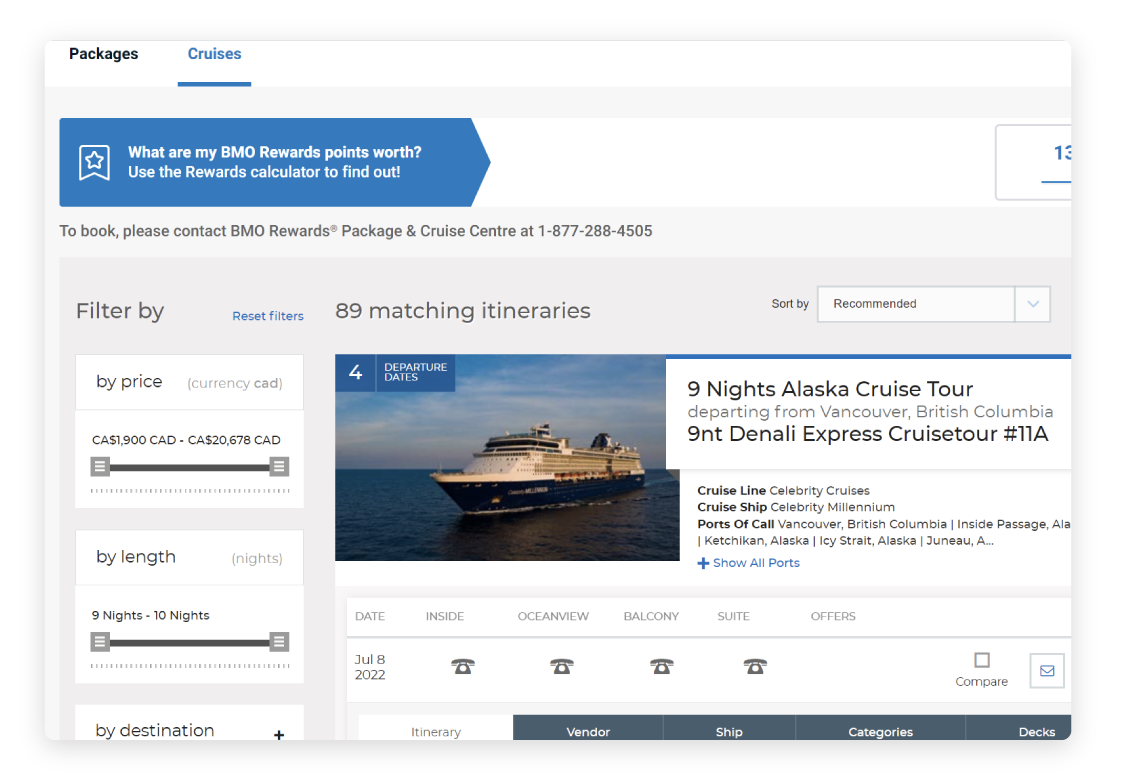 Cruises & Travel Packages
Create memorable experiences through hundreds of cruise and package options available through Passport Travel. Book the trip of a lifetime or cruise with the best cruise lines all using the convenience of loyalty points.
Access last minute deals and all inclusive travel using Passport Travel.
Whether a cruise or complete travel package, whatever the option, it can be booked using loyalty points and Passport Travel.
79% of respondents mentioned loyalty programs as a main reason for choosing specific airlines or hotel brands.